ANTIchildLEAGUE & CRONACA NERA Bruises and bites C38 - NBM54TAPE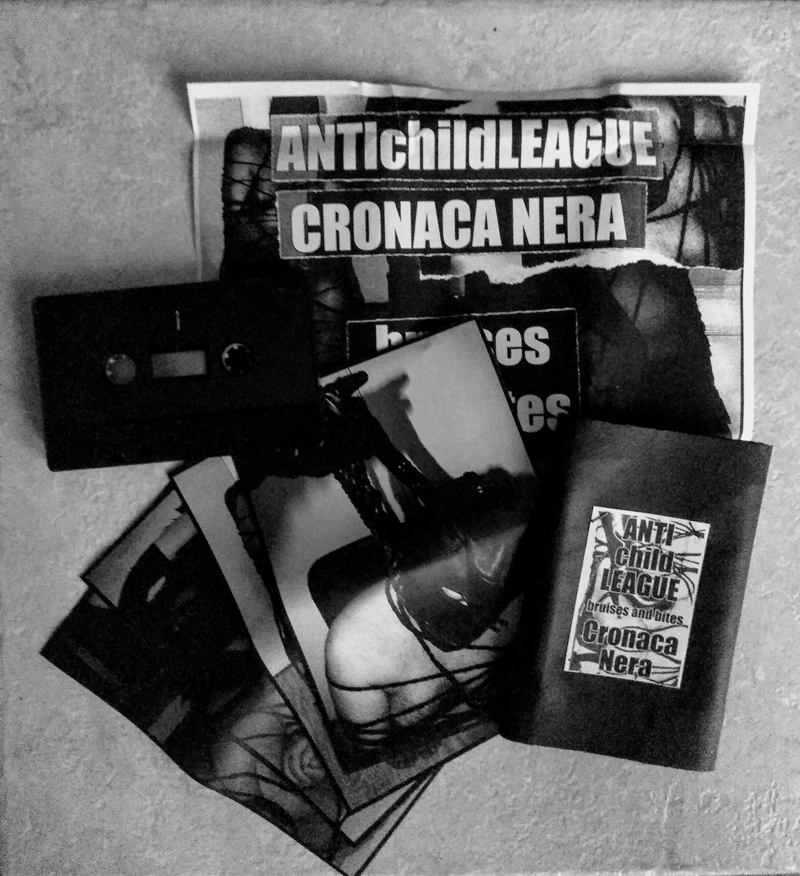 First collaboration between the obscure and historical London based project ANTIchildLEAGUE / Gaya Donadio (Gaya is also the mind behind the "Hagshadow" label and the London "Hinoeuma the Malediction" Industrial venue) and the Italian P/E combo CRONACA NERA (involving Adrieno Vincenti of MACELLERIA MOBILE DI MEZZANOTTE / Giovanni Mori of LE COSE BIANCHE / Andrea Chiaravalli of IUGULA-THOR).
For this release the two projects explore with sadistic pleasure some specific themes devoted to the connections between VIOLENCE and PLEASURE.
BRUISES AND BITES contains only unreleased tracks.
Gaya was writing all texts and performs all vocals.
Tape edition of Bruises & Bites IS housed in a black leather sleeve with postcards and insert. Every image used is exclusive for this release.

7 euro plus postage

Teaser: https://www.youtube.com/watch?v=_Ym2Bh7yKzs&t=10s&ab_channel=NilByMouthHQ

Samples: https://soundcloud.com/nilbymouthrec OR https://nilbymouthrec.bandcamp.com/
7 euro plus postage
(Paypal: nilbymouthrec (AT) gmail (DOT) com)