KHMER NOIR "BODLAR MED SVARTA FANOR" C42 SINGLE SIDE - NBM44TAPE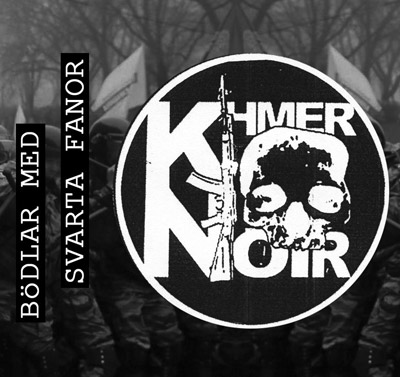 Khmer Noir is a swedish duo known for a tape released by Styggelse in 2011. A bunch of live performances and a hard to find CDr comes full circle on this project that rests on a solid basis of aggressive power-electronics inspired by The Grey Wolves and the fellow Survival Unit.
A carpet of synths set ablaze, urban guerrilla warfare vocals and solid noise textures. An explosive mix reviving on tape for an analogic assault of great impact and violence, "Bodlar Med Svarta Fanor" is in fact the tape reprint of the above-mentioned Cdr. Special packaging with black vinyl envelope and insert.
Limited edition of 120 copies
Samples: https://soundcloud.com/nilbymouthrec OR https://nilbymouthrec.bandcamp.com/
6 euro plus postage

(Paypal: nilbymouthrec (AT) gmail (DOT) com)