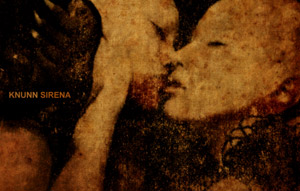 Eight love chants for a journey into bleak scenarios of a dying ocean.
Knunn (Lexes, Scarbox Records etc.) deepens even more the melodic aspect characteristic of his previous works under this moniker. The result flutters between mellow-noise, harsh noise, drone and industrial-influenced ambient with a very dramatic/cinematic feel.

Normal cristal case, 4 color panels j-card, black cardboard sleeve with golden stains, spraypainted black cassettes with golden stains.
4 euro plus postage
(Paypal: nilbymouthrec (AT) gmail (DOT) com)
Check NBM's My Space for samples