RAPERIES (LIKE DRAPERIES) "Four Corners" C24 + C22 NBM12TAPE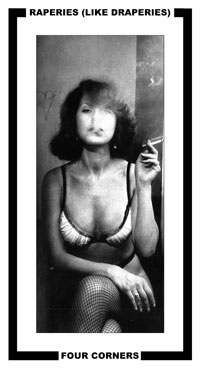 "Although it may seem to be redundant, for morality to exist, it has to actually exist (consider it a reflexive concept). Since morality resides completely within the abstract realm, there is no way of proving whether it exists or not, yet all of us live in a culture where moral values and structures run our day to day lives. The majority, in any shape or form, uses morality as a means of verifying their likes and dislikes, making opinion into an objective quality. Deviance is not an immoral act, but one merely of the minority. This is for those forced into the corners, dunce caps on their heads, plotting their next move. This is for everyone."
Heavy frequencies, powerful noise attack and painful vocals. Double vinyl case with cover, a large insert with notes and 4 postcards.
SOLD OUT!
Check NBM's My Space for samples